Buying Guide for Non-Slate Pool Table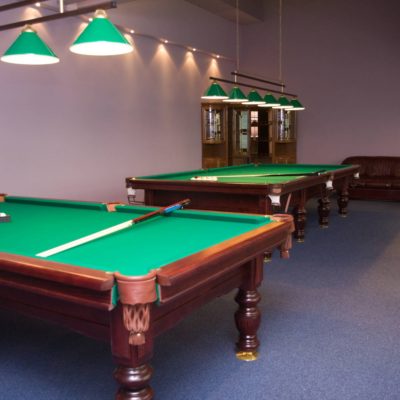 Slate pool tables are industry standard because the hard blue-black stone can be ground down to a tolerance of 0.0001 mm. This provides a precision surface that allows minimal interference in the physics of the game. But not everyone needs or even wants a pool table made with the finest slate from the Ligurian region of Italy. For most of us amateur to intermediate pool sharks, non-slate pool tables make a suitable and affordable way to enjoy this timeless game. Here is what you should know if you will be in the market for your non-slate pool table. Now let's address the first question on everyone's mind.
"If not slate, then what?"
There was a time when pool balls were made of ivory, but luckily, we found improved materials for manufacturing pool balls for our elephant friends. Slate tables have also been replaced with some other materials suitable to the physics of the pool.
Plastic Honeycomb
Honeycomb plastic boards are a single smooth surface consisting of various layers of honeycomb polypropylene. This provides a structurally solid surface that maintains its form even if impacted — although you don't want to impact it at all to improve longevity.
This is a good option for beginners to use while learning how to take care of a pool table. The whole thing will cost about $1000 and last for a few years depending on the use it receives. After which, many manufacturers can send a replacement honeycomb — although the replacement itself will be a considerable ordeal.
Permaslate
There is another common alternative to slate, slatron, or permaslate. Basically, this is a plank of compressed particle board treated and layered within a plastic surfacing. This makes it especially resistant to shocks and pressure and provides that realistic feel to pool play that everyone is looking for. You may have played on a slatron pool table and thought it was a real deal slate.
Of course, this is only at first and as long as it is cared for and treated with love and respect. Because it is based on particleboard, slatron tables will react to humidity in the air, moisture, and even temperatures. If your slate table is not maintained in perfect climates, it will deteriorate soon. But even though their quality is nothing near that of real slate, neither is their price. You can expect to get a top-of-the-line slatron table for a little over $1000.
Medium Density Fiberboard (MDF)
MFD is used extensively in flooring, shelves, kitchen cabinets, and many other applications where the values of strength, durability, consistency, and affordability are most needed. Non-slate pool tables take full advantage of these values to provide a considerably high-performance pool table that could be the next best thing but not quite slate.
The biggest advantage is the affordability, but you will find MDF pool tables in a variety of price ranges. For best results, look for a reputable manufacturer of top-quality products, and don't be afraid to shell out a little more on top-quality items. Longevity is what you will be buying if you can take good care of it.
Frequently Asked Questions on Non-Slate Pool Tables
Q: How can I take care of my non-slate pool table and get the longest service life?
A: The best way to ensure you get the most top-quality playing time on a pool table with a realistic feel and uninterrupted physics is by treating your non-slate pool table with respect. This is simple enough. Even though these tables are advertised as being able to support the weight of a full-grown adult, it is best to protect non-slate pool tables from all unnecessary pressure and impacts. This is because materials of lesser quality than actual slate can't be expected to react with any degree of consistency and the surface could be damaged and need replacements.
Q: Should I get the two-piece or one-piece table?
A: The right table for you is the one that provides the best enjoyment and most practice. When choosing the one-piece and two-piece leg arrangement you must consider how you are planning on installing your pool table. It will also be important to consider the quality of the product. A top-quality two-piece will have the stability of a medium-quality one-piece. Again, protect the stability of the legs and avoid roughhousing on the pool table.
Q: What accessories will I need?
A: It is very important to know where you will be getting all the accessories and parts to play a proper game of pool needed. If you are buying new, you can probably take advantage of a full set of gameplay parts and paraphernalia. If not, you can find a handy list of the complete set of pool table game gear right here.